About company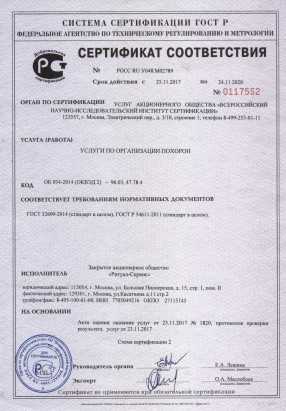 Ritual.ru is one of the oldest municipal funeral services. For a quarter of a century, we have arranged and held more than 100,000 farewell ceremonies. With our vast experience, we can quickly and efficiently carry out any orders from the most simple, in case of "ordinary" funeral to special custom VIP. Ritual.ru Municipal Ritual Service (GRS) operates in full compliance with GOST standards for funeral services (certificate №ROSS RU. Y048.M02789).


The service was established in 1993 as "Ritual-Service"*. In the mid-90s and the beginning of the 2000s, the Muscovites were well aware of the municipal funeral service as "service 310" organized by our company, which provided the residents Moscow free advice around the clock on all funeral matters.
Since 2001, our funeral home has been developing under Ritual.ru brand.
We are committed to technical advancement coupled with a humane attitude. We believe that funeral business cannot be just a business, it should the one with a human face. This commitment was foundational back at the time ZAO Ritual-Service was established, when the founders proposed to pass 30% of the company's profits to the social security fund to provide funerals to the poor. Currently, Ritual.ru actively works together with the Department of Social Security of the City of Moscow and GUP "Moscow Social Guarantee" service to provide funeral services. Our organization has repeatedly assisted in arranging burials for persons who died as a result of terrorist attacks and industrial disasters **. For many years, ZAO Ritual-Service (later Ritual.ru) –has provided financial assistance to the N.E. Bauman City Hospital and World War Veterans Hospital No2.
Live broadcast from Ritual.ru
EMAIL

info@ritual.ru
MULTIFUNCTIONAL FUNERAL CENTER ADDRESS

Moscow, Kasatkina st., 11, p. 13
MORE ADDRESSES FOR GENERAL PUBLIC

RF, Moscow, Gospitalnaya Ploshchad, 3, p. 16
RF, Moscow, Gamalei st., Building 17
RF, Moscow, Izmailovskoye rd, 29
RF, Moscow, Bratislavskaya st., 15, building 1
RF, MR, Odintsovo, Marshala Biryuzova st., 1
the RF Ministry of Defense, Krasnogorsk district, Pyatnitskoye rd., 6 km
PHONE

+7 (495) 100-3-100
Detailed location map